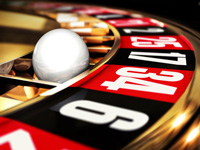 American Roulette is not only a Roulette variation but also the original format of Roulette game. The purpose of this nice game is to guess what number the ball will land on. Furthermore, American Roulette has low bet limits and doesn't feature the "En Prison" rule. English is the official language.
American Roulette is a Roulette variation. Only a few people know that American is the original format of Roulette game. In fact, most of players think that Single "0" French Roulette is the original version of this game. American Roulette Double Zero (00) was the first version recognized as an official casino game. Moreover, American Roulette offers 38 pieces of track against 37 for other types of Roulette. The purpose of the game is to guess what number, zone or section the ball will land on. On the other hand, the wheel and the sequence of numbers are different from other Roulette versions. In American Roulette, in fact, every number is opposite the next higher or lower number in ascending order. The sequence of numbers on the wheel is not "0 through 36" in American Roulette and in other Roulette versions.
English (not French) is the American Roulette official language. So, outside bets like "rouge/noir", "manque/passé" and "pair/impair" are known as "red/black", "1-18/19-36" and "even/odd". Moreover, the sequence of outside bets is slightly different, too, though easy and fast. Furthermore, another typical feature of American Roulette is that all players are given different color of chips.
Double Zero (00) affects your odds significantly. The house edge on a straight number, for instance, is of 5.26% for American Roulette, compared to a significantly lower edge (only 2.70%) for European Roulette.
However, American Roulette tables have lower bet limits, and a piker may play and have fun without spending large sums. Furthermore, you can place a five number bet in American Roulette at one stroke. Five number bets are composed of 0-00-1-2-3. Finally, American Roulette doesn't feature the "En Prison" rule: if 0 or 00 come up, double chance bets will be considered as a loss.
Some images related to the game of Roulette American
Video demo-match at Roulette American
Play at Roulette American in Flash
Attention!
For the flash game if you browse "dekstop" all major browsers are compatible, while from a mobile device, Some browsers, such as mobile Google Chrome and Opera mini, do not allow flash content to be activated; for this reason you will need to install a browser that has the ability to enable Adobe Flash Player such as
Mozilla Firefox
and
Dolphin Browser
.
Some casinos they offer Roulette American game