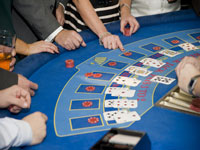 Vegas Downtown Blackjack is played with two standard decks of 52 playing cards that are shuffled before each game. The aim of Vegas Downtown Blackjack is to beat the Dealer's hand by either getting a higher value hand, without exceeding 21, or by the blackjack Dealer's hand going bust. Like normal online blackjack you can only bet one hand at a time.
As the name may suggest, "Vegas Downtown Blackjack" is a Blackjack version created in the USA. This variant uses two regular decks of 52 cards shuffled before every new hand. Unlike most of Blackjack variations, the dealer must stand on a hard 17 in "Vegas Downtown Blackjack". "Hard 17" means that the dealer gets 17 on an ace, four or two, but its score is 7 since any aces in the hand count as 1, not 11 as in the case of "soft 17").
Furthermore, "Vegas Downtown Blackjack" rules don't differ too much from those of other Blackjack versions. Both the player and the dealer, in fact, are dealt two face-down cards. One of the dealer's cards is dealt face-up and the other card is dealt face-down; at the beginning of the hand, the dealer must check for blackjack; if he has a blackjack, he wins the game and the round is over, otherwise the round goes on and the player makes his choice.
In "Vegas Downtown Blackjack" the player may double down on any starting hand including after a split, and he can split his hand up to three times for a maximum of four hands. Moreover, the player may split his cards also if they have the same nominal value: in fact, all picture cards and 10-valued cards can be split.
Split aces: when a player is dealt two aces on his first two cards, he can split them only once. After a split of two aces, if the player is dealt a picture card or a 10-valued card he won't have a blackjack, only a standard 21.
The blackjack (21 points on the first two cards) pays 1.5-1 also in "Vegas Downtown Blackjack". Moreover, the blackjack wins on all other combinations of 21 points and ties only with another blackjack. In this case, nothing is being won and the player will receive only his bet back.
Some images related to the game of Blackjack Vegas Downtown
Video demo-match at Blackjack Vegas Downtown
Play at Blackjack Vegas Downtown in Flash
Attention!
For the flash game if you browse "dekstop" all major browsers are compatible, while from a mobile device, Some browsers, such as mobile Google Chrome and Opera mini, do not allow flash content to be activated; for this reason you will need to install a browser that has the ability to enable Adobe Flash Player such as
Mozilla Firefox
and
Dolphin Browser
.
Some casinos they offer Blackjack Vegas Downtown game